Public One Day Seminar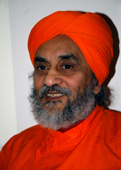 A one-day seminar organised by Istituto di Ricerca Prout (IRP) at Parma, Italy, was addressed by Ac Krtashivananda director of Global Prout Research Institute.
In the light of the harmful consequences of Globalization of Economy for every single country, the agenda of the seminar has been centered on the neccessity to develope the local economy.
Is has been explained by Ac. Krtashivananda to around 20 participants, belonging to different organizations, what are the ways and the features of the local economy.  The main purpose to emphasise on local economy was to increase the purchasing power of the people and to counter drainage of economy.
Ac. Krtashivananda Avt. touched ceratain features of centralised economy:
Effects of Globalisation on local economy, local production, marketing etc.
How local economy in present set up is influenced by the economic policy of the    State and Global economic policy that emphasises on free flow of goods and money* What can we do locally: in the fields of Agriculture, small scale industries and marketing and trade.

Tarcisio Bonotto, president of IRP Italia, has underlined the damages resulted, in the local and national fabric of farm, industrial production and commerce, by the globalization policies (WTO, IMF, WB).
Some counter measures based on  PROUT economic policy were forwarded: 
Development of local projects, in the fields of agriculture, small scale industries, and local trade to counter the influence of big industries, multistores and monopolized businesses.
One venture could be taken up by local farmers: to organize their own whole sale market on cooperative basis to counter the monopoly of big businesses.
A discussion was held in this regard and the participants also agreed to explore the possibility of developing small scale industries and the possibility of availability of fund for such projects.
Workshop
Franco Bressanin, secretary of IRP Italia, has guided the workshop, an exercise about the economic and people organization.
Different proposals has emerged:
Education in the schools about coordinate cooperation and not subordinate cooperation.
Promotion of small collective production activities in agriculture and developing cooperative market by the farmers.
Vocational training for the new arts and crafts, promote youth centers for socialisation and integration.
Development of cultural activities, and to promote training centers for developing artistic capabilities.
Other ideas have emerged from the participants to be explored in subseguent seminars.
 ————————————————————————
Paper Clip: