By Ac. Krtashivananda
Iran knows that it will have more leverage in the talks with the US if it has a bomb. Iran sanctions raise concern of impending humanitarian crisis.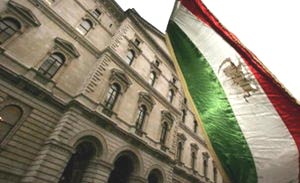 Fresh Western sanctions targeting industries in Iran have led to concern over an impending humanitarian crisis in the country.
Many Iranians now find black market dealers are the only way to get vital drugs, which are in limited supply because of sanctions against the country's nuclear program.
Even basics, such as powdered milk, are reportedly unavailable in some pharmacies.
The sanction are combined with a spiraling currency, making it harder for low-income Iranians to afford basic medicines, despite Iran's claims it had circumvented sanctions through oil sales.
A letter from the Iranian Hemophilia Society to the World Health Organization in July warned that sanctions had "seriously endangered the lives of tens of thousands of patients, particularly children, suffering from special diseases."
A new round of sanctions imposed by the U.S. in January have drawn criticism for targeting industries.
Despite not directly targeting medical supplies, sanctions have badly affected the health care system at every level, leading to overcrowding and long waits at state-run hospitals.
"Sometimes we don't even have serum for dehydrated patients", one doctor told AP news agency. A round of chemotherapy now reportedly costs $65,000, while increases of more than 200 percent for radiology and dialysis equipment are common.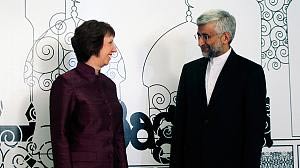 In June, the New York Times claimed that sanctions "represent one of the boldest uses of oil sanctions as a tool of coercion since the United States cut off oil exports to Japan in 1940."
Iranian oil output rose in October after seven months of decline due to Western sanctions and its exports rebounded strongly as China and South Korea bought more oil, the West' energy watchdog said.
The International Energy Agency (IEA), adviser to industrialised nations on energy policy, said the rebound in Iranian output was adding to a bearish picture of growing oil supply while demand remained depressed due to a weak global economy. The IEA also added that a new round of sanctions against Iran was likely to further cripple its finances although not necessarily further reduce its oil deliveries to markets.
"With the bulk of Iranian crude now heading to Asia, however, the main impact of the new EU measures will likely be on the country's financial sector," the IEA said. Iran's finances have been drastically stretched since US and EU sanctions more than halved its oil exports compared to last year, undermining its budget and leading to a spike in inflation and a sharp weakening of its currency. The sanctions are part of a stand-off between the West and Iran over Islamic Republic's nuclear programme.
The EU further broadened the sanctions against Iran's energy and banking industries in October in a bid to bring Iran back to the negotiating table. The IEA said Iranian oil output rose by around 70,000 barrels per day (bpd) to 2.7 mllion bpd (mbpd) in October. Iranian exports jumped to 1.3 mbpd from 1.0 million seen in the two previous months. "China and South Korea appear to account for the lion's share of the increase in Iranian imports," the IEA said in its monthly report.
The jump in imports could have brought Iran an additional $900 million last month, according to Reuters calculations based on the price for its oil of $100 a barrel
DOES  WESTERN SANCTIONS REALLY WORK?
US-led sanctions on Iran will be unable to influence events in Iran very much more, and have started to have a negative effect of strengthening Iran's desire to develop a nuclear weapon so as to achieve greater leverage in future negotiations.
"Sanctions are coming to an end, and having watched events in North Korea, Iran knows that it will have more leverage in the talks with the US if it has a bomb," said Vali Nasr of John Hopkins University in Washington.
He agreed with Joseph Nye of Harvard University that there is a possibility of an opening for talks in the later half of 2013, but is pessimistic that the opening would be exploited effectively as the Obama administration will not be willing to take the political risk of offering a generous deal to Iran.
Responsibility for nuclear negotiations has shifted completely to Supreme Leader Khamenei. Unlike the Iranian president, the Supreme Leader has the political authority to come to an agreement with the US, but he will need a much better deal than is on the table at the moment, said Nasr.
Nye agreed Obama lacks the political will to make a deal with Iran for two reasons. The first was his domestic focus which was the centre of Barack Obama's inauguration speech, and the economy will remain Obama's prime concern even if he is forced by events to pay attention to the Middle East.
But even when he is thinking about foreign policy, Obama intends to let go in the Middle East and instead focus on deepening America's relationship with China and Asia, as the USA struggles with the growing power of the Asian economies and their increased political will.
From the Iranian point of view, a nuclear program has been extremely valuable. Having one has brought Iran prestige in the Islamic world and has given it a level of useful global political credibility. As with North Korea, having a nuclear program has allowed Iran to sit as an equal with the five permanent members of the U.N. Security Council plus Germany, creating a psychological atmosphere in which Iran's willingness merely to talk to the Americans, British, French, Russians, Chinese and Germans represented a concession. Though it has positioned the Iranians extremely well politically, the nuclear program also has triggered sanctions that have caused Iran substantial pain. But Iran has prepared for sanctions for years, building a range of corporate, banking and security mechanisms to evade their most devastating impact. Having countries like Russia and China unwilling to see Iran crushed has helped. Iran can survive sanctions.
Editors Note: Western powers never raised their voice about Israel's nuclear programme. Like Iraq, Iran is a target for its oil reserve. After successive fall of Libya  and now Syria, Iran may be the next target. That's why all rhetoric's are now directed towards Iran.  Powerless UNO  as usual will continue remain a passive onlooker.