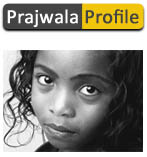 The philosophy of Prajwala evolved based on the need of women and children who are victims of trafficking. Prajwala emerged as an anti-trafficking organization, which believes in preventing women and children from entering prostitution, which is the worst form of sexual slavery.
"Born in a poor family in Pileru, Chittoor District of Andhra Pradesh, instead of going to school Bhavani worked with her parents, who were landless laborers. Her family of eleven consisted of six sisters and three brothers. On the assurance of a maternal cousin, 12-year old Bhavani was married to Amar who worked in Delhi. "Even though I was young I felt very happy to get married as they gave my parents lot of money and took care of the marriage expenses. " After the marriage, Bhavani and her husband accompanied by the cousin left for Delhi.
On reaching New Delhi Railway Station, Amar asked Bhavani to stay with her cousin till he made arrangements for family accommodation. Her cousin's house turned out to be a brothel on G B Road the red light area in New Delhi. Bhavani's ordeal began the very next day when she was asked to cater to a customer. She then came to know that she had been sold for a sum of Rs.45,000/- (USD 1000.00). Interacting with other girls she realized that her 'husband' had married 'twelve times' in that year alone. Her resistance to be initiated was met with a lot of beatings and starvation. After seven days of struggle Bhavani gave in. After five abortions and innumerable sexually transmitted infections, Bhavani today at the age of 17yrs is rescued and " HIV positive."
Hundreds of thousands of young adults and children are traded for flesh trade in the guise of jobs, marriage, film roles, modeling and love. More often than not these traders of human misery are not strangers to the victims. Criminal conspiracy to exploit human vulnerability is at the core of human trafficking.Trafficking in women and children is one of the worst forms of violation of human rights – a form of modern day slavery where the victim is subjected to violence, violation of personal integrity and total humiliation, without any hope of succor. The victim of such devastating violence may also end up with life threatening HIV/AIDS or a lifetime of trauma and personality disintegration.
Trafficking is thus a violation of several human rights – among them, the very right to life, the right to liberty and security of person, the right to freedom from torture or cruelty, inhuman or degrading treatment, the right to a home and family, the right to education and proper employment, the right to health care – everything that makes for a life with dignity.Today, sex trafficking in women and children is one of the fastest growing areas of national and international criminal activity. It has created a complex criminal network – at times, with the patronage of those in power. Lack of suitable laws and law enforcement machinery add to the problem.
FOUNDERS
Dr. Sunitha Krishnan and  Bro Jose Vetticatil, the founders of Prajwala are a rare breed of individuals who have committed their lives for the cause. Both of them are fulltime volunteers in Prajwala.
Dr. Sunitha Krishnan

Dr Sunitha Krishnan is a rare breed of individual who has committed her life as a fulltime volunteer in Prajwala.

A mental health professional, she has done extensive research and is essentially a field practitioner. She has been instrumental in rescuing hundreds of children from severely abusive conditions and restoring childhood to them.

Dr. Sunitha Krishnan is making it possible for India's government and citizens organizations to manage jointly a range of protective and rehabilitative services for children who have been trafficked for commercial sexual exploitation.

For her efforts in the anti-trafficking she has been awarded Stree Shakthi Puraskar(national award), Perdita Huston Human Rights Award and the World Of Children Award.

Bro Jose Vetticatil

Bro Jose Vetticatil is an engineer by training. As a brother belonging to the order of Montfort Brothers of St Gabriel, Bro Jose has been committed to the cause of deprived for the last 28 yrs. He has been involved in post-earthquake rehabilitation efforts in Latur. His main contribution has been in the field of technical training for deprived boys. As the Director of Boys Town, a reputed technical training institute for 9 yrs Bro Jose was instrumental in creating a self sustaining production cum training center.

As the erstwhile president of Prajwala, Bro Jose is not only the guiding force behind all interventions but is also the master mind behind all the economic rehabilitation programs.

After leading the organization for 9 years and shaping all its interventions Bro Jose Vetticatil passed away on 18th Sep 2005.
Contacts:
Prajwala
20-4-34, III Floor, Behind Charminar Bus Stand
Charminar, Hyderabad
Andhra Pradesh, INDIA
Zip/Pin: -500 002
Ph: +91 40 24510290
Fax: +91 40 24410813
Email: praj_2010@yahoo.com
http://www.prajwalaindia.com/home.html