by Ac. Krtashivananda
Suppression of freedom, torture, arrest and even force sterilisation of young women is a common policy in Chinese occupied Tibet Due to infiltration policy of Chinese Govt, in half of the Tibet Chinese have out numbered the Tibetans. Still protests in Tibet continues after 62 years of occupation.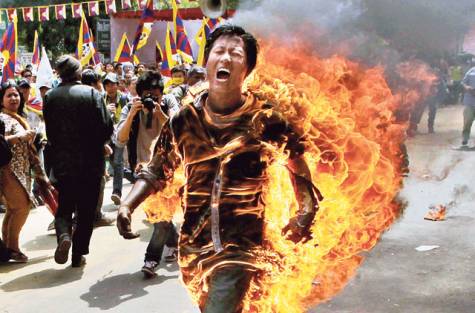 Tibetans continue to defy Chinese rule, with acts of resistance taking place daily, including at Bora monastery, which was placed under seige in March and a protest of 2,000 in Malho on 19th March. It has also been reported that Chinese forces killed a 12-year-old boy on 18th March when they threw grenades into a crowd of peaceful protesters.
With a growing number of Tibetans laying down their lives by self-immolating in protest and many thousands braving beatings, arrest and torture to support them, now is the time for world governments to show their support for the Tibetan people.
The crisis in Tibet continues to worsen. Gepey, Jamyang Palden, Losang Tsultrim and Sonam Dargye self-immolated between 10th and 17th March, prompting huge protests in support of them. On 6th March, Choeri of Golog was shot dead when troops opened fired on protesters, and an unknown number were hit by police grenades on 18th March.
Tibetans in Tibet are calling for an end to Chinese rule, and we and governments of the free world must stand with Tibetans in Tibet to secure their freedom.
Tibetan protests remain peaceful, yet the Chinese regime is intent on using deadly force to repel them. At least five Tibetans were killed when Chinese forces opened fire on protesters in three seperate incidents in January and two survivors of a shooting were hunted down and shot dead, but this tactic continues to be favoured by the Chinese state.
A Tibetan named Choeri was shot dead when troops opened fire on protesters on 6th March, and reports say that an unknown number of Tibetans were hit with grenades and tear gas when Chinese forces used them on peaceful protesters in Ba County on 18th March. One of those thought to have been killed by a grenade in this incident was a 12-year-old Tibetan boy, and seven people are said to be in a critical condition. The protesters had been demanding the release of 50 monks detained on 16th March for protesting for freedom, carrying images of the Dalai Lama. A local Tibetan reported that popular singer Dorjee Tsepel and his wife and sons were arrested during the incident, and that "few of the injured have been admitted in hospitals but many of the seriously injured have not received any medical treatment".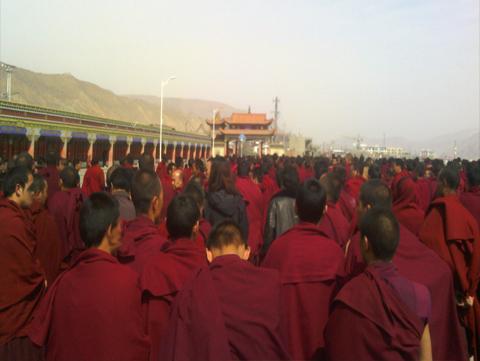 Huge gatherings in support of Jamyang Palden in Rebkong and Sonam Dargye in Rongwo
Around 32 Tibetans have set themselves on fire in protest against China since 2009; 31 of them since March 16th 2011 and 19 in 2012 alone. 23 are known to have died as a result, with others being beaten, arrested and denied medical treatment since taking this dramatic action. The latest, monks Tenpa Darjey and Chimey Palden, set themselves on fire in Barkham, Ngaba in protest against Chinese rule on March 30th. It must be clear to world governments and anybody watching events unfold in Tibet that the Chinese government's current brutal approach to dealing with these incidents is not working, and is in fact worsening the situation. It must be clear that if China does not begin to seriously and progressively address the greivances of the Tibetan people, that the situation will only deteriorate further. And it must now be clear that China will not change this oppressive, failed approach to Tibetan dissent unless it is strongly pressured to do so.